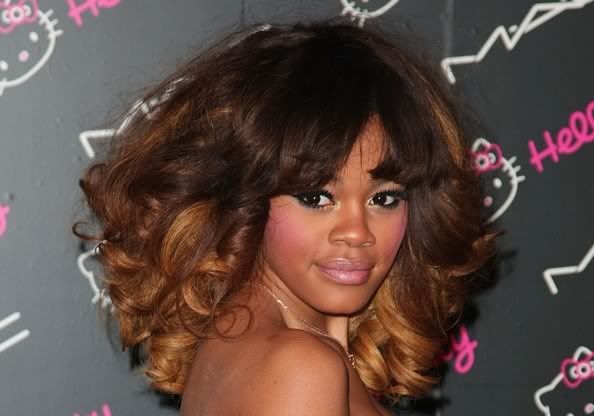 I decided to give some of our
sistas
some props! I have no reason to hate on another young woman for whats she's doing or for what she's got. It's time for that b.s. to stop. We need to learn to appreciate and support each other. It will be hard due to the number of haters these parents have produced. As well as the groups of hater who stick together. Remember,
"Haters of a feather hate together."
Now the beauty of the moment was seen on
MTV's
My Super Sweet Sixteen
, she's a prodigy of
Pharrell
, she sings, raps, models, and is an all around beautiful young woman...
She's an absolute trendsetter. Her style is
outrageously
hott
!
Urban
trends is how I describe her styles, but she still keeps her femininity. Either way she is, in my opinion, the
true
definition of SWAG
. That is the most overused phrase these days and most people who use it to refer to themselves are just swagger
jackers
, but
Teyana's
style is like no other. She doesn't try to copy anyone. She makes the latest trends her own. She's also a rapper, but I'm mostly impressed with her vocals. She can definitely do more than just hold a note [girl can SING!] As she matures,
Im
almost positive that her music career will take off. Her growth will be her musical story. She's all around beautiful.
I'm not
concerned
about
anyone
elses
opinion because I obviously love this fit she was
rockin
down the carpet [bottom]. I definitely dig her make-up. Her naturally deep eyes can take plenty of eye liner, and her thick facial features can also take plenty of blush and lip stick. He hair was big and dramatic like her outfit as well. The color is a good luck against her
complexion
.
Here she's working it out at the Diesel Fashion Show at Miami fashion week
Here she is at the White Party hosted by Diddy and Ashton Kutcher to help raise awareness for Malaria No More. Again, her style is her own. There aren't many people we know who would attend a party with head phones as an accessory. Her jacket is fab and her locs are fire! The make up is fresh and it doesn't over power her wardrobe.
She even looks gorgeous without make-up.